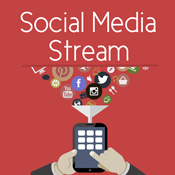 Information
Price: €4,95 / monthly
14 days free
Category: Social media
Release date: 08/21/2015
Developer: Social Stream
Support
Documentation
Social Media Stream
Description
Showcase your posts from Facebook, Twitter, Instagram, Youtube, Pinterest and Tumblr onto one social widget on your store.
Allow visitors to view all of your real-time updates on your website from their desktop or mobile devices. Let your visitors see all your social media posts.
Features
1 Click Install
Install a widget on your store within 5 minutes.
Add streams from multiple channels
Facebook (Pages / Personal Profiles)

Twitter (User / Hasthag)

Instagram (User / Hashtag)

Youtube (User / Channel / Playlist)

Pinterest (User / Board)

Tumblr (User / Blog)
Full Mobile Support
Mobile, tablet and desktop ready.
Insanely Quick Refresh Rates
New messages and posts show up immediately.
Images