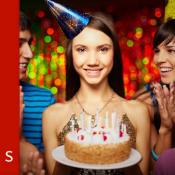 Information
Price: €5,95 / monthly
14 days free
Category: Marketing
Release date: 11/24/2014
Developer: Shappz
Support
Documentation
MyBirthdayMailer
Description
100% of your customers have a birthday and what is more fun than being congratulated on it and receiving a present? With MyBirthdayMailer you can automatically congratulate all your customers on their birthday.
Send your customers service related birthday e-mails just like big webstore brands such as: Bol.com, Fonq, Wehkamp en Coolblue . You can immediately increase your turnover. This retention tool is an absolute must for any ecommerce business.
What does the MyBirthdayMailer app do? 
MyBirthdayMailer takes care of congratulating your customers, the app is fully automated. Besides that the app also offers the possibility of integrating personalized discount vouchers.
Shappz is happy to help you with configuring a suiting template and the correct settings for personal discount codes in order to email your customers when it's their birthday! This way you are engaging with customers on their birthday and drawing them to your webstore with a small present (the discount voucher).
Functionalities:
√ Unlimited amount of birthday emails
√ Multiple languages
√ Unique customer discount codes
√ Fully automated
√ Easy to install
√ Insight into birthday statistics
Video's
Shappz app webinar (Video in Dutch)
Price:
MyBirthdayMailer is priced at €5,95 per month with a trial period of 14 days. The fixed monthly fee will allow you to quicly see a return on investment. Did you know that the open rate of personalized birthday emails is many times higher than any other mailing type? Compared to conventional emails the transaction ratio is almost 400% higher.  
Need support?:
Contact our support department at support@shappz.com
About Shappz:
At Shappz we daily work on developing new and exciting Lightspeed Apps. As merchants ourselves, we know that a steady, yet increasing the flow of orders is a must. That is why we are committed to build Lightspeed Apps that have a big effect on your Lightspeed store at a relatively low price. Did you know that we are already serving over 2,000 Lightspeed merchants? We are an open-minded company that is continuously searching for new ideas or improvements. No-reply doesn't exist in our opinion! Feel free to have a look at our website or contact us directly via support@shappz.com.
Images