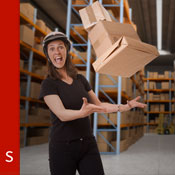 Information
Price: €9,95 / monthly
14 days free
Category: Support and tools
Release date: 10/15/2014
Developer: Shappz
Support
Documentation
MyStockNotifier
Description
What MyStockNotifier does
When a product is out of stock, the customer is able to leave his email address. As soon as the product is back in stock, the customer will receive a custom email notifying that the product is back in stock. This easily increases the conversion on your existing traffic.
Why do you need this app?
You put a lot of time and effort into your website and try to offer a great customer experience. Nevertheless, for many reasons, stocks can become depleted. On average, 70% of online consumers will start looking for a similar product elsewhere. This percentage can easily be reduced by the use of MyStockNotifier.
Functionalities:
√ Unlimited amount of emails
√ Fully customizable notifications and texts
√ Multi-lingual
√ Automatically connected to MyAbandonedCart
√ Easy to install
√ Comprehensive charts
√ Newsletter subscription (optional)
√ Export options
MyAbandonedCart Connection 
If you have the MyAbandonedCart App enabled, we do an Abandoned Cart check on each customer that leaves his email address.
Click here for more info regarding the MyAbandonedCart App 
Videos
Link to the manual:
Need Help ?:
Contact our support team at support@shappz.com. We are readily at your disposal if you need assistance. For instance, helping you design a custom template. 
About Shappz:
At Shappz we daily work on developing new and exciting Lightspeed Apps. As merchants ourselves, we know that a steady, yet increasing the flow of orders is a must. That is why we are committed to build Lightspeed Apps that have a big effect on your Lightspeed store at a relatively low price. Did you know that we are already serving over 2,000 Lightspeed merchants? We are an open-minded company that is continuously searching for new ideas or improvements. No-reply doesn't exist in our opinion! Feel free to have a look at our website or contact us directly via support@shappz.com.
Images