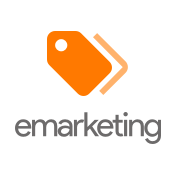 Information
Price:
Category: Marketing
Release date: 09/11/2018
Developer: emarketing
Support
Documentation
emarketing
Description
Use emarketing to create Google Shopping campaigns in no time and without AdWords knowledge. Our system optimizes your campaigns continuously and fully automated for maximum performance. The emarketing module generates the product data feed required for Google Shopping as well as installing the Conversion Tracking - automatically.
You haven't advertised on Google yet? No problem - The emarketing module creates an AdWords account and Merchant Center on your behalf. Powerful marketing tools assist you in prioritizing your ad budget on your most promising products: Use our automated price comparison to identify if competitors offer the same products at a cheaper price.
Powered by emarketing - Google Premium Partner since 2014 und Google's Premier Partner Champion EMEA 2015
Generates product data feed
Sets-up Conversion Tracking
Creates AdWords & Merchant Center (if required)
Sets-up Google Site Verification
Maps shop attributes to Google Shopping attributes
Maps web shop categories to Google categories
Automated price comparison (Google Shopping, Amazon, eBay)
Automated competitor check
Easy campaign creation (no AdWords knowledge required)
Intuitive dashboards & performance reports
Images