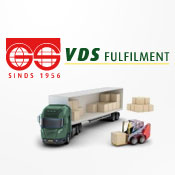 Information
Price: €4,95 / monthly
Category: Shipping
Release date: 04/02/2013
Developer: VDS fullfilment
Support
VDS Fulfilment
Description
Disclaimer: this app is only available to Dutch merchants.
With the VDS Fulfilment app you can connect your webstore with a professional partner in logistics. With the app your webshop is provided with stock information and orders are processed automatically to the warehouse. With this app your logistical operations are in professional hands so you can focus on your core business.
What are the advantages of VDS Fulfilment?
Variable costs for logistics
More focus on your core business
Profit from scaling advantages
Satisfied customers.
With VDS Fulfilment your logistics is in professional hands.